Celebrities mourn the death of 'Parts Unknown' host Anthony Bourdain
Daily World News
Top Stories
business
politics
The world woke up Friday morning to the news that famed chef and longtime television personality Anthony Bourdain had died. He was 61.
Interested in
Anthony Bourdain?
Add Anthony Bourdain as an interest to stay up to date on the latest Anthony Bourdain news, video, and analysis from ABC News.
CNN confirmed his death in a statement posted to Twitter on Friday.
"It is with extraordinary sadness we can confirm the death of our friend and colleague, Anthony Bourdain," the network said. "His love of great adventure, new friends, fine food and drink and the remarkable stories of the world made him a unique storyteller. His talents never ceased to amaze us and we will miss him very much. Our thoughts and prayers are with his daughter and family at this incredibly difficult time."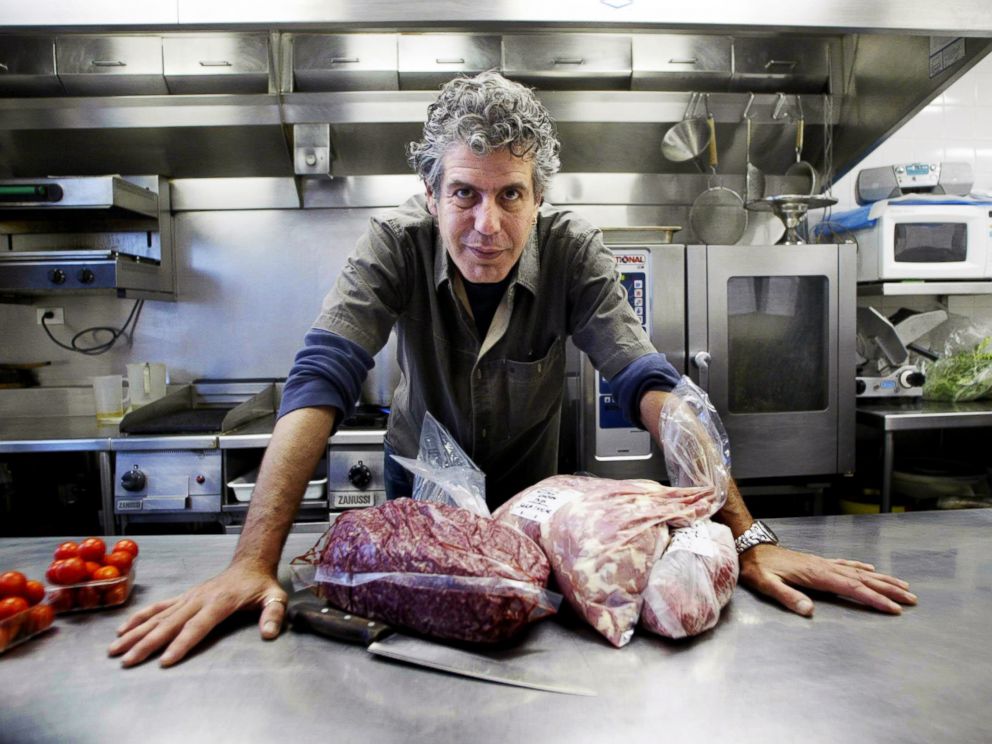 Fans of Bourdain's, including CNN correspondent Christiane Amanpour, Chrissy Teigen and Gordon Ramsay immediately took to Twitter to mourn his death.
My heart breaks for Tony Bourdain. May he rest in peace now. He was a friend, a collaborator, and family. A huge personality, a giant talent, a unique voice, and deeply, deeply human. My heart goes out to his daughter and family, and his longtime partners and friends at ZPZ.

— Christiane Amanpour (@camanpour) June 8, 2018
Anthony Bourdain, a gifted storyteller and writer who took CNN viewers around the world, has died. He was 61. We have live coverage on CNN now.

— Brian Stelter (@brianstelter) June 8, 2018
Anthony. One of my idols. Unapologetic, passionate and one of the best storytellers on the planet. Thank you for making food so exciting. And always standing up for everything right. Horrible. Why why why. Be at peace now 🙁

— christine teigen (@chrissyteigen) June 8, 2018
My deepest condolences to his families and loved ones. He sometimes spoke of his battle with depression. I am saddened to hear it took him from us while he still had so much left to share. https://t.co/MDMXlDZdNX

— George Takei (@GeorgeTakei) June 8, 2018
Truly devastated about @Bourdain. I have no words. Please if you need help, reach out. Call the National Suicide Prevention Lifeline at 1-800-273-8255

— Busy Philipps (@BusyPhilipps) June 8, 2018
Oh my God @Bourdain has taken his life. People are in unmanageable pain. This is my wake up call today. We have to help those who cannot help themselves.

— Bethenny Frankel (@Bethenny) June 8, 2018
In 2008 I worked at Townsend Lobster in Provincetown. Anthony Bourdain came in with like 20 family members. Kids running everywhere. He sassed me about not knowing the menu prices, tried guessing the lobster weight, twinkled his blue eyes, and bought lunch for everyone.

— Ariel Dumas (@ArielDumas) June 8, 2018
Incredibly sad news about Anthony Bourdain. Sending such love to his family, including his CNN family, who must be hurting terribly today. If you or someone you know may be considering suicide, please remember, help is right here: Nat'l Suicide Prevention Lifeline: 800-273-8255

— Megyn Kelly (@megynkelly) June 8, 2018
Chefs and culinary community mourns Bourdain
Stunned and saddened by the loss of Anthony Bourdain. He brought the world into our homes and inspired so many people to explore cultures and cities through their food. Remember that help is a phone call away US:1-800-273-TALK UK: 116 123

— Gordon Ramsay (@GordonRamsay) June 8, 2018
A piece of my heart is truly broken this morning. And the irony, the sad cruel irony is that the last year he'd never been happier. The rest of my heart aches for the 3 amazing women he left behind.
Tony was a symphony. I wish everyone could have seen all of him. A true friend.

— Andrew Zimmern (@andrewzimmern) June 8, 2018
RIP Tony Bourdain …Wtf …in complete shock … loss for words

— michael symon (@chefsymon) June 8, 2018
There are people that give the outward appearance of happiness and everything is fine, only to find out it's a facade. Not over here, I'm happy, but also know when the sun sets, there's still light. It ALWAYS gets better. Talk to friends, professionals, just talk.

— SunnyAnderson (@SunnyAnderson) June 8, 2018
Gutted to hear we've lost @Bourdain. If you are ever feeling alone, please call the National Suicide Prevention Hotline: 1 (800) 273-8255.

— Buddy Valastro (@CakeBossBuddy) June 8, 2018
If you are in crisis, please call the National Suicide Prevention Lifeline at 1-800-273-TALK (8255) or contact the Crisis Text Line by texting TALK to 741-741.
Daily World News