Next online sales jump as stores suffer
Daily World News
Top Stories
business
politics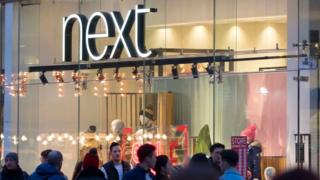 Next has reported a sharp rise in online sales over the Christmas period, while trading at its stores declined.
In a continuation of recent trends, online sales rose 15.2% between 28 October and 29 December from a year earlier, while store sales fell 9.2%.
In total, full-price sales at the retailer were up 1.5% over the period.
Next said strong sales during the three weeks prior to Christmas and the October half-term holiday had made up for a "disappointing" November.
The retailer expects an annual profit of £723m, slightly lower than its previous forecast of £727m.
It blamed the lower forecast on strong sales of less profitable items including beauty products and personalised gifts.
The company said it was particularly difficult to forecast how its business would perform this year, due to the uncertainty around the UK's upcoming departure from the European Union.
At the moment, it assumes economic conditions this year will be the same as the second half of last year and expects store sales to fall 8.5% and online sales to be up 11%.
Richard Lim, chief executive of Retail Economics, said that knock-down prices were taking their toll on all retailers.
"Overall, in the context of a heavily discount-driven environment, retailers' profitability will remain under intense pressure as profit margins are squeezed further."
He also pointed out that the move to online sales created additional costs for retailers, including delivery and organising returns.
Daily World News