Pakistan: Cleric known as 'Taliban's father' killed
Daily World News
Top Stories
business
politics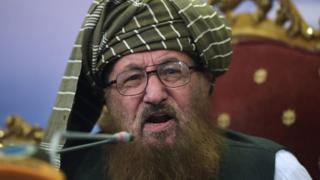 The Pakistani cleric Maulana Sami ul-Haq, known as the Father of the Taliban, has been killed in his home town of Rawalpindi.
Local media quoted his family members as saying that he was stabbed to death. But other reports say he was shot dead.
The motive for the attack is unclear.
Haq was the head of the Haqqania madrassa in the north of Pakistan, where many Taliban members – including the group's founder, Mullah Omar – had studied.
Afghan officials had recently asked the cleric, believed to have been in his 80s, to help convince the Taliban to begin peace negotiations.
He was a former senator who ran a faction of the religious Jamiat Ulema-e-Islam party – and was close to Prime Minister Imran Khan's PTI party.
Mr Khan is currently on an official visit to Beijing, but his office said in a statement that he condemned the killing and had ordered an investigation.
The cleric's death comes at a time of turmoil in Pakistan, where protests have broken out in a number of cities after the acquittal of a Christian woman sentenced to death on blasphemy charges.
Haq had thousands of followers among his students, as well as Afghan and local Taliban members. The BBC's M. Ilyas Khan says there are fears that his killing may cause further trouble on the streets.
Daily World News