Pound up over reports of EU financial services deal
Daily World News
Top Stories
business
politics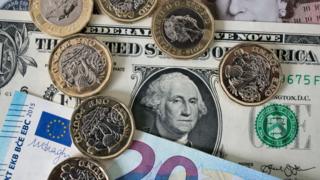 Sterling has risen by as much as 0.6% against the US dollar amid reports the UK has struck a deal with the EU on post-Brexit financial services.
The Times newspaper said London had agreed in negotiations with Brussels to give UK financial services firms continued access to the bloc.
Sources said a tentative agreement had been reached on all aspects of a future partnership on services.
An initial deal on exchange of data had also been agreed, the paper said.
It added the deal was expected to be completed within three weeks.
Britain's departure from the European Union is expected to take place in March next year, but many UK-based businesses have expressed concern over the lack of progress in Brexit talks.
Despite various reassurances from Prime Minister Theresa May that definite trade terms between firms in the UK and the EU will be finalised by March next year, businesses across the board are already preparing for the worst.
Mrs May's senior adviser on Europe, Oliver Robbins, was continuing the negotiations in Brussels, The Times said.
Daily World News